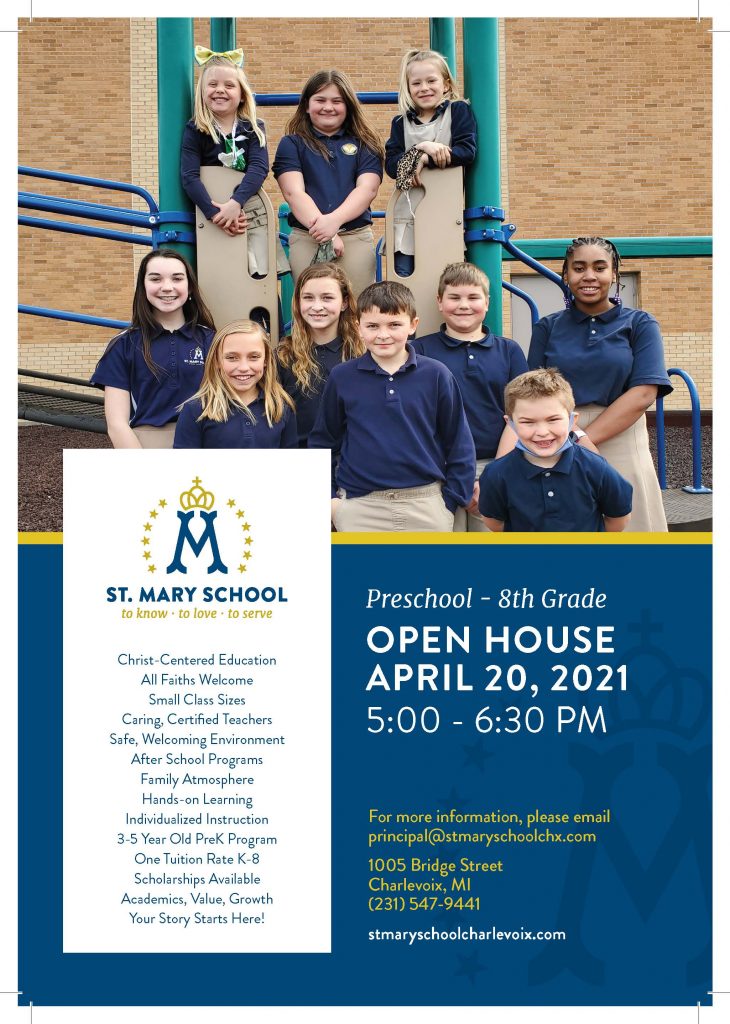 Hello! We are excited that you are considering joining our St. Mary School family.
For 113 years, St. Mary School has been serving the spiritual and educational needs of families in the Charlevoix area. We empower teach student to grow spiritually, academically, creatively, and physically so that they may experience, understand, and live their responsibilities to God, family, community, and self.
Along with a strong academic curriculum, our school staff provides St. Mary School students opportunities for spiritual growth and Christian values. Virtue education, skills necessary to get along with others, and a desire to always do, "What would Jesus do?" are a few areas we continually focus on. We try to show the example and motivation that students need in order to know, to love, and to serve God. We expect our students to live as Jesus wants us to, both in school and throughout their lives after they walk out the doors of St. Mary School.
We are proud of the academic growth that we see in our students each year. Students are given the tools and guidance to reach their highest potential. Our student to teacher ratio is small, which allows our teachers to provide individualized instruction for our students. St. Mary teachers also regularly focus on improving teaching techniques, curriculum, and making adjustments to each student's learning based on their testing performance in order to provide our students with the best academic opportunity in the area. Year after year St. Mary School students outperform Local and National norms on standardized testing.
St. Mary School recognizes the importance of a strong working relationship with our school families. We work closely with parents in all aspects of school life. Our students' spiritual and academic growth are always the focus of our daily efforts.
Please visit us on Tuesday, April 20 from 5:00-6:30 pm during our school open house. I look forward to meeting you and working with your family as you continue to consider St. Mary School for your child's education. Feel free to contact me at any time, I would love to provide a personal tour and answer any questions you have about St. Mary School.
God's blessings to you and your family!
Sincerely,
Kathleen Dvoracek, Principal
Take a Virtual School Tour with Mrs. Dvoracek!