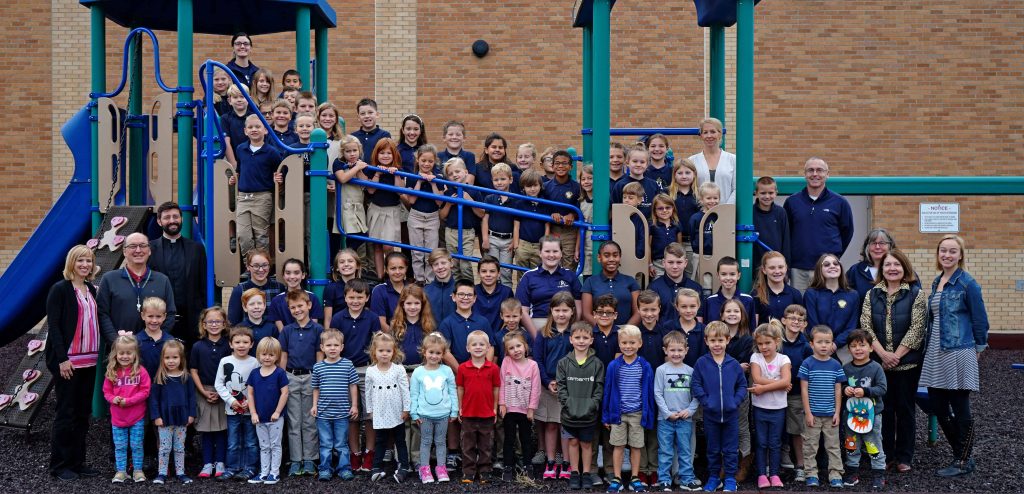 The purpose of the St. Mary School Angel Tuition Scholarship Program is to help families who could not otherwise afford to send their children to St. Mary School. Scholarships are awarded based on a family's Adjusted Gross Income on Federal Income Tax form 1040. If you are interested in applying for an Angel Tuition Scholarship, please contact our principal, Kathleen Dvoracek at 231-547-9441 or principal@stmaryschoolchx.com.
Some things you need to consider before filling out a scholarship application:
Only a three-member Committee will see your application which consists of the school Principal, the Business Manager, and Parish Priest. The only person who will know the applicant's name is the school Principal. When the committee meets, the applicant's name will be redacted for confidentiality purposes.
You must commit to one full school year in order to be considered for assistance.
You must pay your monthly payment using our online payment plan through FACTS on time in order to maintain your scholarship.
You MUST have sought assistance from other sources (family, friends, church, etc) prior to submitting this application.
A more generous consideration will be given to applications from parents who have performed (or have committed to performing) significant volunteer duties at the school.
Returning students who have demonstrated an appreciation for a Catholic education by exhibiting a solid work ethic and cooperation with staff and school rules will be given more favorable consideration than those who lack such.
The application must be filled out annually and assistance will be established on a year-to-year basis. There is no implied guarantee of Angel Tuition Assistance going forward.
If you are offered assistance, you are to donate at least 40 hours of volunteer work per school year.
If you have any questions, please contact the Principal.
If a scholarship is awarded, you must let us know immediately when financial assistance is no longer needed.
How Your Efforts Could Guarantee Financial Support for St. Mary School:
Seek support from your church! We recommend taking your request directly to your Church's governing body if you are a member of a church other than St. Mary of Charlevoix.
Help raise funds for your school: Be actively involved in school fundraising opportunities or events. Fundraising directly impacts the amount of money the school has available for scholarships. Currently, fundraising accounts for 20% of our school's annual income budget.
Volunteer for uncompensated duties at St. Mary School that would approximate the value of the tuition that was given. Take ownership and responsibility for your child(ren's) education through sweat equity. You will need to be prepared to commit to regular hours on a weekly basis throughout the school year. Some duties that we need volunteers for include: Home and School Association, Fundraising Committee, Room Parents, Lunch Duty, Kitchen Assistance, Classroom Aides, Building Maintenance, Office Duties, Weekend Janitorial Duties, Yard Work, etc.